The General is out of office for a night of eating, drinking and celebration. The battleground was filled with people who weren't required to wear fatigues, but rather to bring a tummy ready to devour three freshly prepared and cooked lechon.
Last June 9, we were welcomed by Bryan Ong and his wife Lynn to their humble abode in Paranaque to have a taste test of
General's Lechon
, an original from San Carlos City (Negros Occidental). Thanks to
Anton of Our Awesome Planet
and
Spanky
for extending the invitation to us.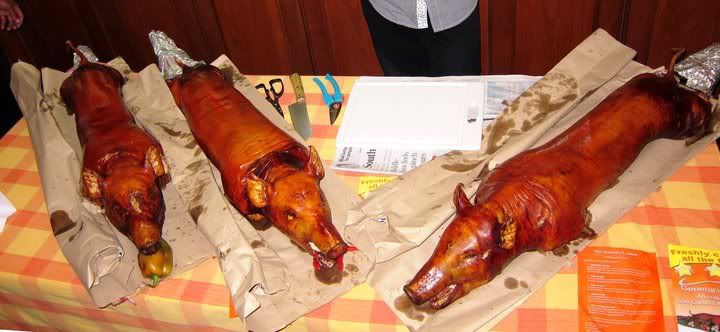 The first time I got to chew on a sample of General's Lechon was in last month's Yummy Eats. With that small piece, I knew it had potential to make it big. Perhaps you're wondering why "General's" lechon? I'll save that for later.
Sitting on the cutting table are three huge lechon (pictured above by Spanky) with different flavors - Original, Chili Garlic and Curry. Interesting huh? My heart jumped with excitement and my tummy started grumbling upon seeing those glazed lechon skin! Ohhh-la-la.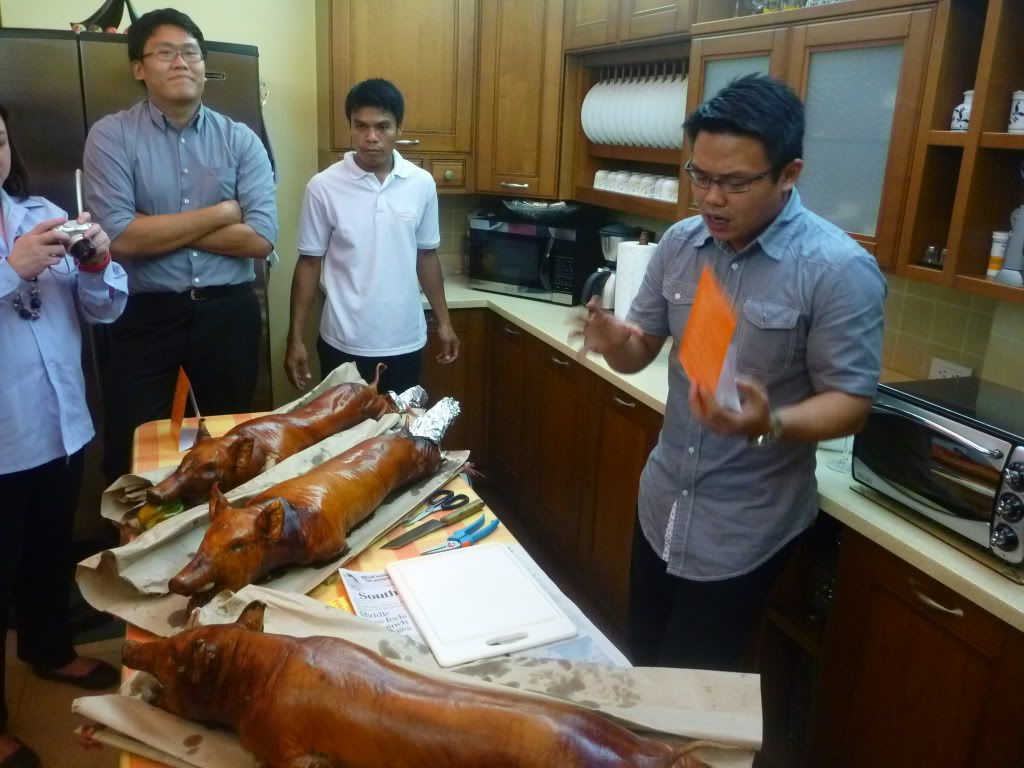 As Bryan started slicing them one by one, the only resonance I hear was nothing but the crispy crack sounds of those sinful yet crazily yummy lechon skin. People started battling it out on which lechon skin part to taste and which of the three lechon will we taste first.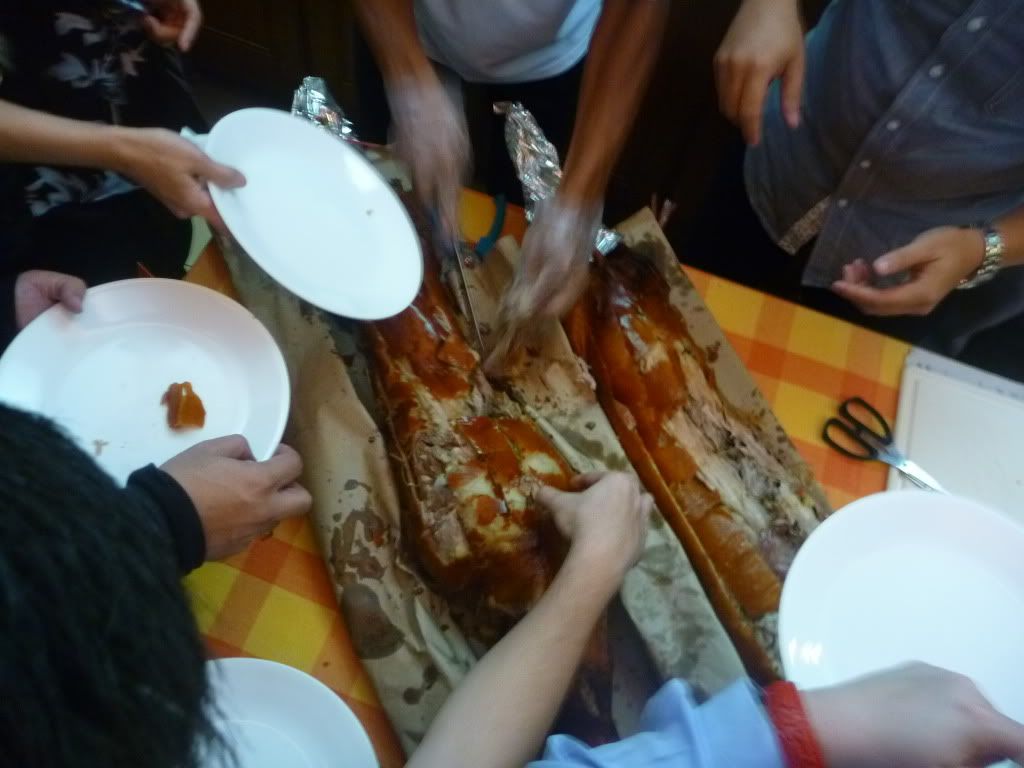 How to eat General's Lechon
The General's orders on how to savor the lechon are (1) criscross the skin and eat it straight from the lechon, (2) grab the ribs and nibble on them, (3) fork the belly for it is the tastiest and tenderest part of the lechon, (4) tear the ears and chew all the way, and (5) dice the back and legs. We did all these. In fact, I learned that it's really best eaten with bare hands and a glass of Coke. The result? Errrr... a very full tummy and a nice burp!
Short Q&A Results
We took Bryan and the lechonero on the hot seat and asked them a few questions.
Why General's Lechon? - Bryan just pointed out to her wife and said "she is the General" then smiled. Isn't that cute? A strong-willed man naming the food business after his wife. Awesome!
Where do the pigs come from? - "We bring them here from the province."
How long is the preparation and roasting time? - Preparation takes about 1 hour and roasting could take 1 hour and 45 minutes to 2 hours. It's cooked to perfection and freshly cooked all the time.
How much is it? - The price ranges from Php3,000++ to Php6,000++ depending on size and flavor.
Do you serve it with sauce? - "Yes, we do, but we suggest eating it without sauce or just vinegar if you want."
The Lechon Verdict
General's Lechon is one of a kind in taste and quality. The meat is so tender and juicy, the flavors are unique, the skin is crunchilicious, and the whole lechon tasted fresh. The lechon in itself is good to go with pancit or rice even without sauce.
The three variants cater to different audience, depending on what you like. For me, I'd go for the Original with a bit of sweet and salty taste, then Curry with unique herbs and curry flavor, and then the Chili Garlic since I'm not much fond of chili flavor.
Indeed, they have brought lechon to a whole new level of taste, as compared to other suckling pig roastings found in other provinces.
Two improvements I can think of are the following: (1) work on the consistency of flavor in the whole lechon, so that all parts get the same taste and flavor, and to not make some parts overly tasty - I'm actually not sure if this is possible, since the opening of the pig underneath has its limitations of course, and if possible (2) lower down the price a bit, so more families can afford them.
Overall, General's Lechon is a two thumbs up! Look how the devouring left these pigs after a few hours:
You can add General's Lechon on
Facebook
and call them for orders at 408-6850, 0917-8975966 or Fax 823-1628.