Smart Communications, Inc.
(Smart) brings back their '
Double Deal
' promo available at Smart Wireless Centers nationwide until
February 28, 2011
. Sorry for posting this just now, but you still have 4 full days to go and get yourself a a brand new Smart Gold postpaid plan.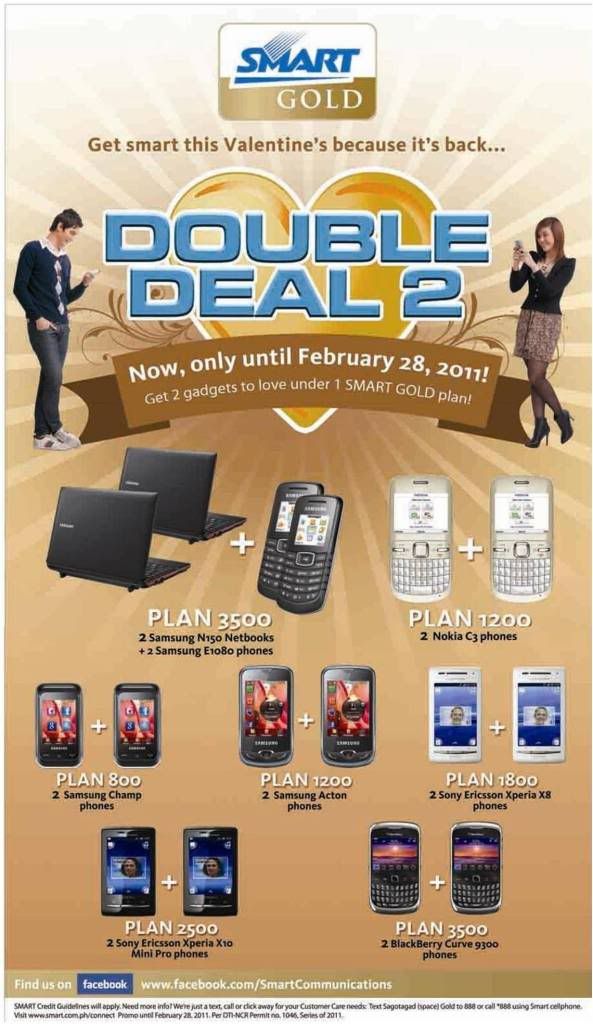 What exactly is with Smart Gold's 'Double Deal' offer? In a nutshell, all approved postpaid subscribers will receive an extra mobile phone or a netbook with their postpaid plan, absolutely free – on top of the free handset which already comes with the plan.
"This is one of the advantages of being on Smart Gold – our subscribers not only enjoy the 'nationwidest' network and the clearest signal, they also enjoy the best, most powerful devices that suit their needs and lifestyles," shared Tricia Dizon, department head of Smart Gold and Buddy.
Plans available are the following:
Plan 800 - 2 Samsung Champ phones
Plan 1,200 - 2 Samsung Action phones / 2 Nokia C3 phones

Plan 1,800 - 2 Sony Ericsson Xperia X8 phones
Plan 2,500 - 2 Sony Ericsson Xperia X10 Mini Pro phones
Plan 3,500 - 2 BlackBerry Curve 9300 phones / 2 Samsung N150 netbooks + 2 Samsung E1080 phones