We've come to the last round of this series where you need to guess what brand and model is the phone being featured below. I will be picking 3 winners out of the participants who will get the correct answer.
This round is almost a giveaway, so better make sure to send your correct guess on time. All participants who answered correctly from round one to this last one are qualified for the final draw, where 1 winner will bring home a brand new Samsung Corby 2.
Clue #1: Voice Talk
Texting or calling while driving are big no-no's! You'll get caught by the police. This phone has a Voice Talk application that allows you to call, send SMS, navigate through a map, write a memo, etc by the use of your voice. Watch the video below as I demo this application.

What phone is this?
Clue #2: Dual-core processor
At this time and age, we need our gadgets to be fast, because we all live in a fast-paced world. Say goodbye to slow phones and small internal memory, because this smartphone is super fast. You won't see delays upon selecting or tapping an option on screen.
Aside from applications that do open at once, you can also do multi-tasking and opening of several applications one after another. The possibilities are endless when you have a phone that has a dual-core processor. Not many phones have this, mind you!
Clue #3: Several input methods for SMS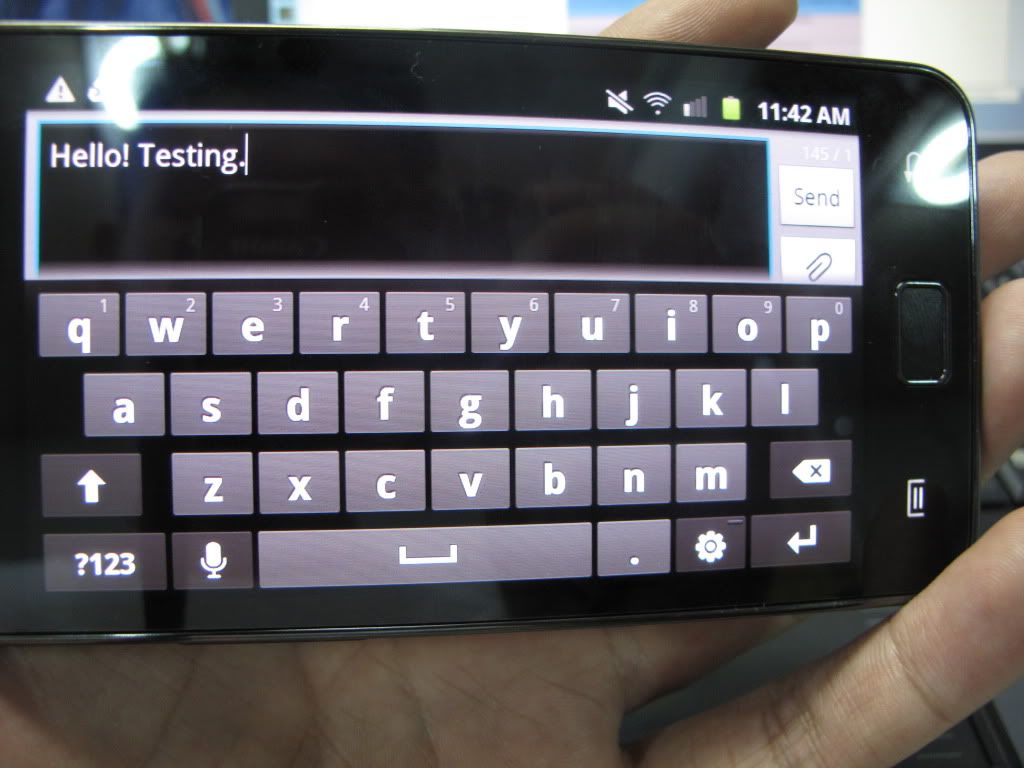 You have several options to choose from when sending SMS - Swype, T9 or QWERTY - depending on which method is more comfortable for you. Pictured above are samples of how it looks like in portrait and landscape mode.
Got the phone brand and model in mind already?
Clue #4: Reader's Hub
If you're fond of reading news and magazines, this smartphone is your portable, friendly go-to gadget. With the Reader's Hub application, you can download popular books, news, and magazines. While others are free, some need you to purchase titles.
Clue #5: This phone is officially launching tomorrow, June 21.
Need I say more? So... what phone is this?
Join now if you know the answer!
Required: Post a Facebook shoutout to everyone on your own profile. Make sure to tag the GLICH'S LIFE fanpage in your entry and your privacy settings for this shoutout is set to Everyone. Sample below:

"GLICH'S LIFE, that Samsung Corby 2 will be mine!!! http://www.glennong.com/2011/06/what-phone-is-this-final-round.html"

Fill in your complete details below and choose "What phone is this? The final round" in the field that asks which mini-contest are you joining.
Input your guess and stand a chance to win prizes. Answers posted in the comments section are not qualified.
Only residents in Metro Manila or those who can claim the prize are qualified for this giveaway.
Those who have joined in the last two weeks are still eligible to join this week. You may or may not use the same email address as with the first two rounds.
You may only guess the phone once in this round. I won't accept several name entries even if you have different email addresses. Make sure the name you enter is reflected on a valid ID.
There will be 3 winners for this GUESS IT entry, whom I will email once this closes. The draw will be done in random using Random.org from those who will be able to guess it correctly.
All participants who get the answer correctly will stand a chance to win a brand new Samsung Corby 2 at the end of the Glich's Life Share It, Guess It, Win It giveaway.
Deadline to send in your answers will be at 11:59PM of June 26, 2011.
Three winners and the Grand prize winner will be announced next week!
Got any more questions? Post 'em below. Happy guessing!